Best gifts for Christmas for pets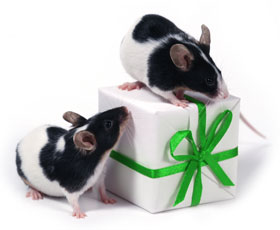 So maybe best gifts for Christmas for your pets aren't really an ancient tradition but most of us consider the little ones a part of the family. In that spirit and spirit of giving, we try not to forget to get them something nice for Christmas.
Pets won't know that they actually got a Christmas present, but they sure know there is something tastier than usually in their food bowl, or a new toy or even a new house. Come to think of it, maybe even a new friend of the same specie.
Joke on the side, I don't recommend getting pets as Christmas presents, but if you are buying a new female parakeet to be company to your single male, then it may be a good idea.
This is actually a perfect opportunity for you to get one of the pet necessities you postponed shopping for the entire year. So besides cool items your pet will love, I will remind you of a few items that are essential for a happy pet.
Let's cut to the chase, here is a list of best gifts for Christmas you can buy for your pet. The list is arranged in the following way:
best Christmas gifts for parakeets and birds
great gifts for guinea pigs and rodents
cool presents that will make your turtles happy
Note that most of the products are sold by Petco and Amazon and a lot of them are on sale at the moment, so don't miss these great opportunities.
Click on images to go to the product page.
Christmas gifts for Parakeets

Pet Parakeet Park Tabletop Playpen
Tabletop playpen is a wonderful parakeet gift. They can spend hours playing on it and the size allows you to keep it almost anywhere and watch your bird play.

The product is sold by Petco and is rated 5 out of 5 stars.

Designer Square Top Parakeet Cage
This cage is of great size for your bird and it will give him enough space to play. It is designed really nicely so it can be a part of your house decor. Another advantage is that you can clean it very easy, by removing the plastic bottom and washing it.

The product is sold by Petco and is rated 4 out of 5 stars.

Designer Brown Ranch Style Top Parakeet Cage
Similar to the cage above with the difference that is it s a different style "house".

The product is sold by Petco and is rated 4.5 out of 5 stars.
Gifts for guinea pigs

Super Pet Large Treat Pet-n-Play Habitat Guinea Pig Cage
This is a really cute guinea pig habitat. It includes a treat dispenser.

The product is sold by Petco and is rated 4.1 out of 5 stars.

Guinea Pig Cage
The reason I love this cage, which is one of the cages I've used for my guinea pigs, is the size. It is pretty spacious and easy to clean.

The product is sold by Petco.

Small Pet Playpens
A must have for guinea pig and other small pet owners. You can use it inside and outside to keep your pets from getting out of the yard or getting behind the furniture while at the same time giving them some space to play and exercise.

The product is sold by Petco and is rated 4.4 out of 5 stars.
Christmas presents for turtles
Highly recommended full turtle set up. This set up includes both aquatic and dry land area and is easy to clean.

Like this page? Please share it with your friends: