How to Buy and Set Up a Gecko Cage or Terrarium

Setting up a Gecko Cage or Terrarium is part of the fun when owning a lizard. The basics are a glass or melamine interior tank (makes it easier to clean), wiht a tightly fitted door to prevent escape. Lizards requires that the vivarium have two temperatures, since they regulate body temperature with outside temperature. This means that during the day one end of the gecko cage will be at a higher temperature (usually 90F) with the lower end at 75F. The lizard will move from one area to the other depending on their needs.
To heat half the cage, an ultra-thin heat mat is the most efficient method. They can be placed under or to the side of the terrarium. Lighting is with an ordinary flourescent bulb. Other types of lizards use a UVB lamp, but that is not necessary for gecko care. The layout of the typical gecko cage includes a basking area for heat, and a separate hiding area for privacy. The substrate that covers the cage should be natural looking and can be something as simple as paper. The cage is cleaned by removing the substrate.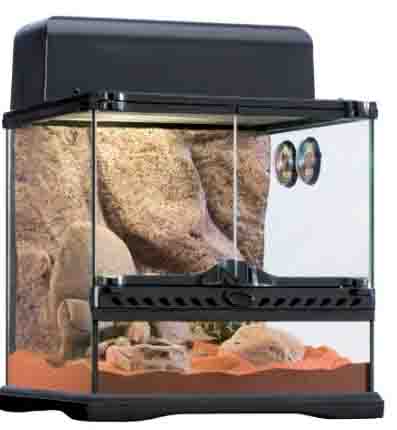 This Desert Gecko Terrarium Kit Shows a Typical Setup for a Leopard Gecko Cage
Source: Exo Terra Desert Habitat Kit

Gecko Terrarium Kits

The easiest way to get started with a Gecko Terrarium is to purchase a 10 gallon Gecko kit (40 liters). The kit comes with everything needed to get started and cost between $100 and $200. The easiest way to think about a lizard care is to think about the Gecko's natural environment. If your Gecko comes from the desert, then expect few plants, and low humidity levels. Geckos from more tropical areas such as Florida expect higher humidity and plants.

Geckos are ectotherms, which means their temperature is regulated by the outside environment. To change body temperature in the wild they move in and out of direct sunlight. Sunlight areas are referred to as areas where the Gecko would bask. To create the same effect in captivity. owners use a ceramic heat lamp over a basking area during the day in one specific area of the gecko terrarium. The rest of the habitat can be wormed with a UVB lamp. Both can be on a timer. When the Gecko wants to lower its' temperature, it can simply move from a basking area to another area of the gecko cage.

10 gallon aquarium or gecko terrarium with a screen top. (add 10 gallons for each additional gecko)
They do not require a daylight UVB lamp, but do need 12 hours of light per day

Heat pad or ceramic heat lamp. A heat pad underneath half the tank will provide a preferable gradual temperature gradient from cool to basking area, vs. a ceramic heat lamp at the top of the cage which is directed at a specific basking area.

Hiding box with vermiculite or moist moss to help with seasonal gecko skin shedding

Substrate (covers bottom of gecko cage)

Paper towel, or reptile carpet for gecko babies or juveniles
When 6 inches in length, switch to a material that the lizard cannot swallow such as a paper pulp substrate or Eco Earth


Decor or furniture
Shallow water dish such as the lid of a glass jar. Change the water daily and clean the dish 1x per week.

2 Themometers (for basking end and cooler end of gecko terrarium)
Climbing branches
Hydrometer to measure humidity levels
Plants such as snake plants or fig plants (ficus lyrata)

A Gecko Kit comes with everything needed to care for a pet gecko
Shown:
Reptihabitat 10 Gallon Kit from Amazon
You can also create your own Gecko terrarium. They can vary in shape by width, length and height depending on the need of the specific species that you select. You can then purchase the required lamps and furniture. Clean the gecko habitat weekly.
This Tropical Gecko Terrarium from Exo Terra is Perfect for Geckos from the Tropics
Source:
Exo Terra/Amazon
Gecko Terrarium Temperature

The Gecko Cage should be kept between 75F and 90F with the basking area maintaining the 90 degree temperature. Check the required temperature for the species you select. The temperature at night should be 5F to 10F cooler.

Gecko Cage Tips
The Gecko can be provided food or water in a bottle lid. For shelter, a small plastic house with a cut out entrance or a pile of natural objects such as rocks or branches can be used. Unlike other lizards, an ultraviolet light is not needed since these lizards are nocturnal. When you set up a new home your gecko will take some time to adapt. Provide food on the second day. Remove any insects such as crickets that are not eaten in a 1 hour period. Try again the next day. If the gecko cage already has a resident, quarantine any new gecko for 3 months to make sure that there are no health problems.
Have a Rabbit Health or Care Question for our Vet? We Will Answer it for Free!
Do you need some rabbit care advice? Just ask a question and our Vet will answer it as soon as possible.

If your question is medical or behavior related, please include information such as species, age, diet, habitat and anything related to the medical history of your rabbit.

Please upload a picture of your rabbit, especially if you believe it will help the Veterinarian. This is often the case when you are concerned with a rabbit skin disease or coat problem. Please know that we receive many questions and answer them on a first come, first served basis. If you need an immediate response, we suggest you use this online veterinary service that is available now to answer your questions.
Like this page? Please share it with your friends: