All About Pet Hamsters

It all started in 1829, when pet hamsters were discoverd in Aleppo, Syria by the Bitish zoologist George Waterhouse. The hamster is native to Syria and was not successfully domesticated and bred in captivity until the 1930s, at which point they were imported to the United States as laboratory animals. Because of their size and perceived cuteness, hamsters can be appealing to those looking for an alternative to the cat or dog for a household pet. If you are considering a new addition to your household, read on to find out if the hamster will be an appropriate fit for you.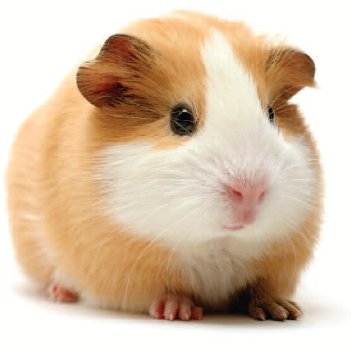 Pet Hamster
Source: AVMA
Quick Reference to Hamster Information:
Hamster Cages
Hamster Breeds
Dwarf Hamster Care

Pet Hamsters - Species and Breeds

There are several species of pet hamsters that are typically kept as pets in the United States. The Syrian hamster, also known as the 'teddy bear' or "golden" hamster, is classically the most common type of pet hamster. Its adult size is six inches to 8 inches in length. It is possible for a Golden to grow as long as 11 inches in length.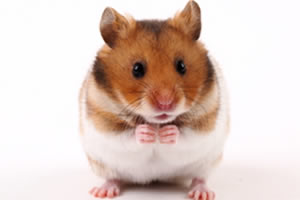 Golden Hamster
Source: Association of Exotic Mammal Veterinarians
Key Facts Golden or Syrian Hamsters:
Weigh 3 to 5 ounces
Nocturnal, most active between 7PM and 11PM
Available in many colors and coat lengths due to breeding
Like to live alone
Several dwarf hamster species are also common, such as the Campbell or Russian dwarf (most popular), Roborovsky dwarf (smallest of the dwarfs), the Siberian or winter white dwarf (type of Russian), and the Chinese dwarf (looks like a mouse due to the long tail). The dwarf species are significantly smaller than the Syrian hamster, with an average adult size of two to three inches in length.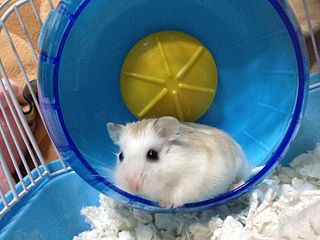 White Face Roborovsky Dwarf Hamster
Source: Wikimedia/Sy
Key Facts Dwarf Hamsters
2 to 4 inches in length
Like to live in pairs - consider 2 males or 2 females to avoid breeding more hamsters than you can handle

Docile and friendly personality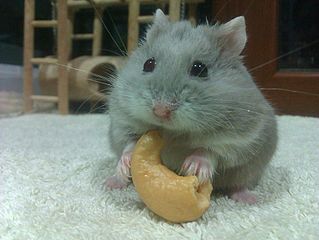 Campbell Dwarf Hamster
Source: Wikimedia/Tanaya
Hamster Lifespan
The average hamster will live 2 to 3 years.
Tips When Buying Pet Hamsters
Bringing home a healthy hamster from the pet store gets you off to the right start. Always check a hamster for signs of good health. This includes:
clear shiny eyes
no discharge from the nose
no discharge from ears, ears should be pointing up
teeth should look properly shaped
check the coat for neatness, healthy appearance and shine
If the backside of the hamster is wet, select another pet as this could indicate a condition called wet tail. Avoid all hamsters living with the affected animal.

Active behavior, not thin
To learn more download this brochure on
hamster rodent basics
from the AVMA.
Hamster Behavior

Hamsters are energetic and active creatures that are natural burrowers. Although they are not truly nocturnal, they tend to sleep during the day and become more active in the evening and at night. This is nice, because it means that they are more likely to be active while their owners are at home. However, if the hamster is housed in a bedroom this can be a problem if the rodent is active enough during the night to interfere with the owner's sleep. Hamsters are also notorious for their tendency to bite. They are especially prone to biting if they are startled or handled inappropriately. For most hamster owners, it takes a certain amount of time for the animal to build up enough trust to allow itself to be handled without protest.
Hamsters are not recommended for households with small children, and should not be handled by children without adult supervision. Not only do the hamsters pose a threat to children because of their propensity to bite, but the children pose an obvious threat to the hamster as well. Children are often unintentionally rough, and hamsters are tiny and fragile. It is extremely easy for a well-meaning child to squeeze too hard or drop the poor animal, resulting in horrible injuries that usually mean the death of the animal. In general, Golden or Syrian Hamsters are recommended for children as they are tame and fit well in the hand. Dwarf Hamsters need to be continually tamed and prefer to pay attention to other Hamsters.

Hamsters are self grooming and keep themselves clean. After bringing a hamster home for the first time, give him or her a few days to get used to the new home before playing and handling.

Hamster Care and Maintenance
Pet Hamsters are a low maintenance pet, but do require some basics:
Daily Care

Fresh food, remove old food, wash food dish daily

Fresh water
Remove soiled bedding



Periodic Care

Replace bedding with clean bedding weekly

Here are the items every owner should have on hand:
Cage or Hamster Habitat (see below)


Food bowl and Food: When selecting a food bowl buy one that can't be tipped over easily (Hamsters like to sit in their food bowl) and that can be cleaned easily


Water bottle that has a metal tube for sipping. This is preferred over a water dish since hamsters will wade into the water, creating an unsanitary condition.


Bedding (avoid pine or cedar): for bedding we recommend wood shavings. If you use a paper product, do not use newsprint with ink, since the ink could be toxic to hamsters. Cage should be covered with 3 inches of bedding.


Materials for the hamster to chew on


Hiding box


Cage for traveling if needed


A toothbrush or other soft brush


Hamster toys and wheel. Buy toys or a wheel that is for your size hamster. Said another way, dwarf hamsters will have smaller toys and wheels than Syrian hamsters. Hamster balls are popular ways to exercise your pet.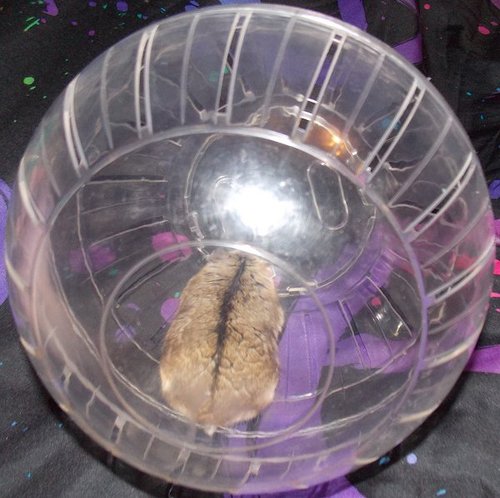 Hamster toys such as a hamster ball like this one is an excellent way to provide your pet hamster with exercise
Shown:
7" Hamster Ball from Amazon
Hamster Diet
Hamsters are largely vegetarians, but will eat other foods on occasion (omnivores). Pet hamsters should be able to get to food all day. Protein should comprise 20% of the diet. The ideal combination is a commercial diet combined with fresh vegetables (consider iceberg lettuce, peas, carrots, parsley, broccoli that is chopped) and as a treat, some fruit (banana, blueberries, corn, grapes, i or a raisin. Pellet based diets are preferred over seeds, since pellets contain a nutrient rich combination of ingredients.

Do not feed a hamster canned foods, greens from tomatoes or potatoes or candy/sweets. You can feed cooked meat, pasta, or rice as an occasional treat.

Hamster Cages and Starter Kits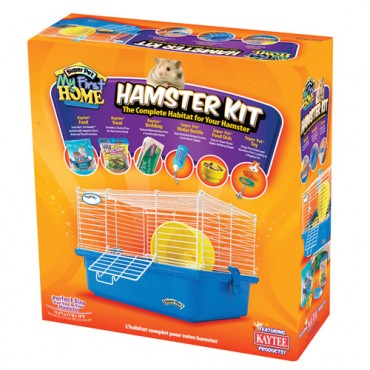 A Hamster Starter Kit Like This One Makes it Easy to Care for Your First Hamster. The kit includes bedding, food, treats, toys water bottle and a dish for Food.
Shown: My First Hamster Kit from Big Als

These are the recommended specifications for anyone getting started with a pet hamster: Hamsters should be housed in an aquarium or plastic rodent cage. A 10-gallon aquarium is the minimum size appropriate for a dwarf hamster, and Syrian hamsters should be given more space. Regardless of the hamster species, a roomier habitat is better than a cramped one. Hamsters in general are solitary animals. Syrian hamsters should never be housed together, as they undoubtedly will fight, often to the death. Dwarf hamsters will sometimes tolerate a roommate, but they need to have plenty of room and must be supervised closely, especially when first introduced, to be sure they are a good fit. Males and females should never be housed together, as they breed very quickly and efficiently.
Purchase a hamster Cage that has a minimum of 19 square inches of floor space. Bigger is always better. Any cage should have a secure lid to ensure that the hamster cannot escape the enclosure.



Types of Hamster Cages



Wire: great for ventilation, avoid sharp edges, select a cage with a solid floor. If you want a cage with two levels, know that hamsters aren't the best climbers, and may not be ideal for this species

Aquarium: easy to clean, blocks odors, make sure it provides adequate ventilation. A preferred choice for dwarf hamsters that could slip through the gaps in a wire cage if they are too wide.

Hamster Tubes: excellent for matching cage design to hamster burrowing instinct. Caution includes need to keep it clean and lack of ventilation. Some owners like to keep two cages, one for living and one that contains hamster tubes for play.



These Hamster Tubes and Cages Can Be Expanded with Accessories

Shown:

Super Pet CritterTrial Primary Hamster Habitat From Amazon for $23

Cage Placement

Keep out of direct sunlight
Avoid drafts
Hamsters like to play at night so keep cage in an area where noise from the hamster wheel will not disturb anyone
Room temperature of 70 to 75 degrees (normal human room temperature)



Cage Setup

Designate separate areas for the bathroom, food, toys and nest/bed
Wash all toys using a dish washing liquid before use, dry before placing into the cage
Keep the hiding or nesting box away from the food and water. Think of food, water, bathroom, nest/hiding box as separate areas in the cage

Have a Question for Our Vet About Hamster Health or Care
Do you have a question about hamster health or care? Ask and our Vet will answer it for free!

Please be sure to include important information such as age, breed, diet, medications, advice from your veterinarian or anything else you believe would be helpful.

It also helps to include a picture, especially when asking about skin or coat problems.

Every week we will select questions to be answered by our Vet. If you need an urgent response, we suggest using this online veterinary service that has Veterinarians standing by 24 hours a day.
What Other Visitors Have Asked and Suggestions from the Vet
Click below to see what other visitors to this page asked and shared with us...

Hamsters Need Bigger Cages Than Recommendations

At first, I am not a native englishspeaker, but I think I can write what i thought when i read those "informations" I really do not want to be mean …
Related Articles:
References for Pet Hamsters
Hamster: Your Happy Healthy Pet by
Betsy Sikora Sino (highly recommended book for any owner or for someone considering owning pet hamsters
Like this page? Please share it with your friends: