The Best Hamster Food for Your Pet

Like all pets, the best hamster food is formulated to meet the nutritional requirements of your pet. Dwarf and Golden hamsters eat the same diet. Diet plays a critical role in the lifespan (approximately 2 to 3 years) and health of your pet. While hamsters are largely vegetarians, they will on occasion eat insects and meat.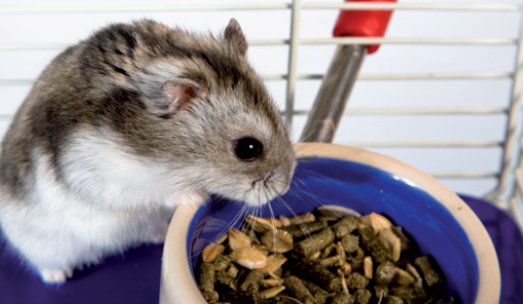 The Best Hamster Feeding Bowls are Ceramic and Weighted so that They Do Not Easily Tip Over
Hamster Dietary Habits

A high quality hamster diet should be available for your pet to eat at all times. Most hamsters will eat much everyday, about 1 tablespoon of food. Hamsters will eat most food night. Note that tracking hamster dietary habits can be tricky since some hamsters like to hoard and hide food. If you feed your hamster a variety or pellets and seeds, don't be surprised is the pet picks out favorites and neglects food that he or she doesn't like. Hamsters prefer seeds, so at minimum provide a mixture of seeds and pellets.

Fresh water should be provided daily as well. All food dishes and water bottles need to be cleaned daily.
Put out fresh food when it becomes dark out, about the time the hamsters wake up.
Types of Hamster Foods
The two basic types of hamster foods are seed and pellets. The problem with seeds alone is that they are high in fat and if fed as the sole food could lead to obesity. Look for pellets that contain approximately 15% to 25% protein. Do not provide pellets manufactured for other animals, only hamster feed.
In addition to the pellets, provide your hamster:
1 teaspoon of fresh vegetables everyday
1 teaspoon of fruit 2x per week
Occasional treats
Fresh hay daily (helps with wear on teeth)

Choose from alfalfa (source of calcium and protein), timothy, oat, brome hay

Recommended Hamster Diet

Commercial Hamster Pellets:
A good choice that meets hamster dietary requirements is
Oxbow Healthy Handfuls
. If has the recommended balance of protein.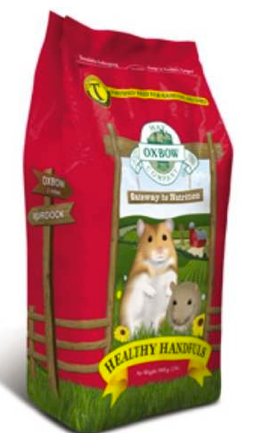 Only Give Your Pet a Diet Made Specifically for Hamsters

Shown: Oxbow
Hamster Vegetables:
Recommended vegetables include:
broccoli

collard greens
carrots
cucumber

mustard greens
squash
spinach

Remove any uneaten vegetables 4 hours after they are placed into the
hamster cage
. Do not overfeed vegetables to avoid stomach problems.
Recommended fruits:
Banana

Blueberries
Raspberries
Grapes

Do not overfeed fruit since the hamster digestive tract does not tolerate fruit well.
Have a Question for Our Vet About Hamster Health or Care
Do you have a question about hamster health or care? Ask and our Vet will answer it for free!

Please be sure to include important information such as age, breed, diet, medications, advice from your veterinarian or anything else you believe would be helpful.

It also helps to include a picture, especially when asking about skin or coat problems.

Every week we will select questions to be answered by our Vet. If you need an urgent response, we suggest using this online veterinary service that has Veterinarians standing by 24 hours a day.
Like this page? Please share it with your friends: