Top parakeet names for male birds
Here are some nice ideas for parakeet names you can use to name your boy birds. The best thing to do is to choose one you would like to hear him say. Then, when you start the training, teach him his name first.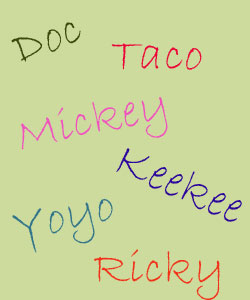 Teach your parakeet to say its name by making it easy on him. Choose a name he can learn easily. That would be a short name that starts with a consonant.
One of my parakeets I had before used to say his name in the cutest way. Translated to English his name would be Chubby which is really funny because he was the skinniest bird I have ever known. He flied so much around the house that I could not imagine him ever getting fatter.
But it seems that he liked it that way. I guess being small helped him because he used to stick his little head everywhere to see what is going on.
Some of the nicest parakeet names for male pet birds would be:
A
Alfie
Appolo
Albert
B
Buddy
Butter
Bobbie
Bennie
Bubbles
Big Ben
Bart
Batman
C
Charlie
Coco
Clyde
D
Dickie
Dot
Doc
Dolce (sweet in Italian)
E
Earl
F
Floyde
Fred
Frosty
G
Gizmo
Georgie
Google
Garfield
H
Harry
Homer
I
Itsy
Icey
J
Joe
Jerry
Jay
Jack
K
Kee-kee
Kody
L
Lucky
Larry
Lazy
M
Mango
Mack
Mickey
Mohito
N
Noah
O
Ollie
Oscar
Odie
P
Phil
Petey
Puffy
Pepe
Prince
Pepper
Pooh
Pit
R
Robbie
Ricky
Romeo
S
Sky
Sam
Snowy
Sonny
Sam
Shadow
Sylvester
Sebastian
T
Tweety
Tony
Taco
Tom
Tex
Tramp
V
Vinnie
W
Whitey
Y
Yoyo
Z
Zipper
Zeus
Note ? some of the parakeet names on this list can be used for both male and female birds. If you have not found names you like in this list find some ideas on Pet names | Birds by characteristics page.
Your name ideas
Lidia from Russia: Cappuccino
Tricia Hedglin: Sidney Squawksby
Janie Istre: Rascal
Anonymous: Fluffy and Trevor
Rosie from Australia: Gingerninja
Millie from Australia: Asterix
Kim from United States: Bungie
Ashley from Canada: Paisley
Veronica from Austria: Bacon Bits
Brennan from United States: Ernie
Hadil Zidan: Yorkie
Logan from United States: Zed
From United States: Wall-e
Kayla from United States: Twitter
Ken from United States: Loki - Known in Norse mythology as a Trickster and typically the God of Mischief, much like my beloved 'keet!
Daisy from Canada: DJ
Marie from Australia: Cricket
Didi from Canada: Vilcon
Elle: Jeffrie
Kanra from United States: Nero
Alexis from Canada: Tango
Amber from New Zealand: Milo
Karen from United Kingdom: Flopsy
Rebecca from United States: Oreo
If you want to add parakeet names to this list, you can suggest a name by using the form below. Or just share your pet bird's name. If you want me to credit your suggestion by telling people who sent the name, make sure you fill in your name too.

In case you are not sure of the sex of the bird, you may want to choose a name that would go nice with both boy and girl parakeet.
Like this page? Please share it with your friends: