Budgie names for female birds
If you need budgie names for female birds maybe you will find some you like in the list below. Or see parakeet names for male birds if you have a boy bird.
If you use some name that is female-only you should make sure that the bird is a female indeed. Mistakes in determining parakeet gender happen a lot. You can check the gender by looking at parakeets beak.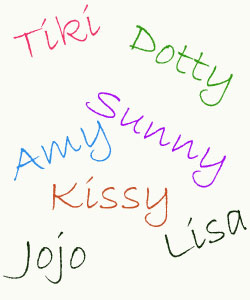 Second tip for not making a big mistake is giving your budgie a name that would work good for both male and female bird, like Coco or Tiki.
There is one more thing I need to stress out here. Female budgie parakeets can learn to talk but they are harder to train to do it than male birds. Also, they learn less words.
So, if you want to teach your bird say its name, you should definitely go with a short, easy to remember budgie names, that start with a consonant. Something like Kiki, Poppie or Missy. It is something they can pronounce easier.
Here is a list of budgie names for female birds in alphabetical order:
A
Angel
Anna
Ariel
Apple
Amy
B
Butter
Bunny (so what if it is not a rabbit)
Baby
Belle
Beauty
Bonnie
Bianca (Italian for white)
C
Coco
Carrie
Cassie
Chloe
Cotton
Choco
D
Daisy
Dotty
E
Ely
F
Funny
Frida
G
Gabby
Gaga
H
Holly
Honey
I
Izzy
Ida
Ivy
J
Joy
Jojo
Jennie
Julie
Jennie
Jill
K
Kiwi
Kitty
Kissy
L
Lina
Lucy
Lady
Lisa
Lemon
Lilly
M
Mango
Missy
Mia
Mollie
Mama
Minnie
N
Nellie
Nancy
O
Opal
Oprah
P
Princess
Pinky
Pixie
Pearl
Peaches
Polly
Q
Queen
R
Robin
Roxie
Roma
Rose
S
Sweetie
Sunny
Sierra
Sally
T
Tweety
Tiki
Tiny
U
Una
V
Violet
Vanilla
W
Wendy
Z
Zoey
Note that some of the names on this list can be used for both male and female birds. So if you have not found the name you like here, you might want to check out some parakeet names for male birds. Maybe you will find your inspiration after seeing those names.
Your name ideas
By Debie: Snow white -- She is all white with blue under her wings, black across her forehead. She is only 5 months old, already spoiled rotten. She doesn't want any toys in her cage for some reason.
Amber from United Kingdom: Kiki
Darby: Winter
From Canada: Snowflake
Hannah from United States: Puff Puff
Peta from United Kingdom: LuLu
Amy from United States: Ava
Stephanie from Australia: Steph
Aley from Austria: Aley
Lola from Australia: Kayla
Jasmine from United States: Jazzy
If you want to add budgie names to this list, you can suggest a name by using the form below. Or just share your pet bird's name. If you want me to credit your suggestion by telling people who sent the name, make sure you fill in your name too.

And that is not all. Pet names | Birds by characteristics page has some good suggestions too. While you are there, check the list of budgie names for pairs, there are some interesting ideas if you are wondering how to name a pair of new parakeets you have just brought home.
Like this page? Please share it with your friends: