Choosing the best bird as pet does not have to be hard at all. All you need to decide is who is it supposed to be the best bird for. Are you searching for the best bird for kids or beginners.
12 Best Pet Birds For Kids And Beginners
A pet bird owner beginner does not have to be a child but it would be the easiest to learn the same way kids do, by starting with an easy to maintain, smaller pet bird.
A big bird might seem like something good to start with. A person would think since they are considered smarter they would be like dogs, easy to maintain. But that is the point.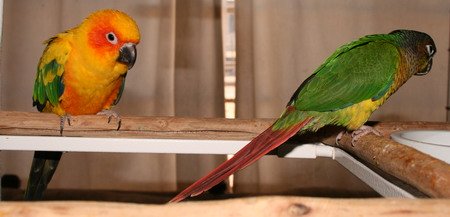 A dog understands better than a budgie parakeet but he is not easy to keep at all. He needs walking and so many other things to make him happy. Big birds need a lot too.
So your best choice would be a smaller or medium size bird.
Friendly And Easy Bird Species For Kids And Beginners
Finches

Pet canaries
Budgie parakeets
Cockatiels
Quaker parrot
Senegal parrots
Parrotlets
Pionus parrots
Pyrrhura conures
Sun conures
Amazon parrots
Lovebirds
Finches
Finches are small, colorful birds you will enjoy watching and listening to. They sing nice but not too loud. They don't like to be handled so you will not have to socialize with it a lot. It would be good to get a pair of them though.
Canaries

Canaries are very pretty. The most beautiful for me are red and yellow ones, with those bright colors. The greatest thing about canaries is the male's singing. As far as socializing - they are like finches, don't like to be handled and you could get a pair so they are not lonely.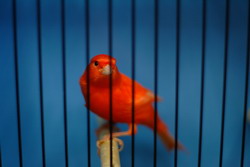 Photo courtesy of Michelle Tribe
Budgie Parakeets
Budgies are small parakeets that come in many different colors. They can't really sing and sometimes can be a little bit loud. They make some sounds all the time.
Budgie parakeets can even learn to talk. It will take some effort to train a parakeet but you will be very happy once you hear him say "What's up?"
Cockatiels
Cockatiels are a little bit bigger than previous birds but they are also very nice pets. Definitely need to be included in "the best bird as pet" list. They don't really learn how to talk but they whistle very nice and you can teach them to whistle a whole song.
Both budgie parakeets and cockatiels love to play with people once they are socialized.
In case you get pairs of these birds, the socialization might be a little harder but not impossible, of course. Why is this the case? Because they will play more with each other than you.
Quaker Parrot
Quaker parrot can also be the best bird as pet. They are not much bigger than a cockatiel. They don't come in too many colors like budgies and finches do but they live longer.
These birds are very intelligent and playful. They are not too loud and they can imitate sounds as well as learn to talk. They are actually quite good in imitating our speech so it should not take you too long to teach them to say their first words.
Senegal Parrots
Senegal parrots are very good pets, they are pretty quiet but love to socialize with people. They are not very big, about 10 inches, and they can live 50 years. So in case you choose one and take good care of it, you can not only start with this bird but have a friend for life.
Pionus Parrot
Pionus parrot represents a group of medium sized parrots. There are several species but most common as pets are Maximillian, Blue-headed and White-Capped.
They are not as playful as other recommended here but that does not make them bad for beginners. They are good to start with but don't expect them to cuddle and play with you too much.
Pionus parrot is a little bit reserved but likes to be scratched on the head and neck. That means you will still have some interaction and physical contact with the bird.
Pyrrhura Conure
Pyrrhura conure group includes a lot of sub species of these cute little parrots. They are, like most parrots, very playful and friendly. These birds are not big. They can learn to talk but they do have a limited vocabulary.
They can easily learn to do tricks. They can even be trained to "do their business" in certain areas when they are flying around the house which is great for small apartments. Pyrrhura conures usually like to be hand handled and scratched.
Sun Conures
Sun conures are beautiful, very colorful birds from South America. They are very playful and social so you will have a lot of fun with this bird.
But in case you will not spend a lot of time with it do not get one.
They are extremely loud when their needs are not fulfilled so it might not be the best bird as pet in a building, with all the grumpy neighbors.
Amazon Parrots
Amazon parrots not only differ between species but also every individual birds is a story for itself. They are bigger than others recommended for the best bird as pet with size up to 20 inches.
They require a bigger cage too so consider the prices before you decide on this one. They are good talkers and very playful. But you will need to pay attention to their training. You need to train it from the first day because they can get somewhat aggressive.
Lovebirds
Lovebirds are small parrots and there are several species. Most common lovebirds as pets are peach faced lovebirds, masked lovebirds and Fischer's lovebirds.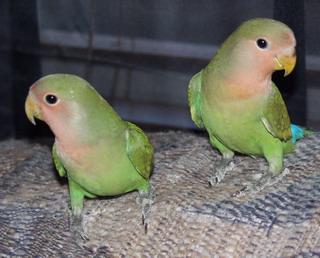 They are very social but you can still keep a single bird. The only difference will be that you will have to socialize with it a lot. In case you do get a pair like most people recommend, what will happen is that the birds will be a company for themselves and won't need you too much. So think how much you want to interact with them before you get one.
Lovebirds as pets can be loud when they need something but most of the times they are pretty quiet. You can hear them making some sounds almost all the time.
Have a Pet Question for our Vet? We'll Answer it for Free!
Would you like to ask our Veterinarian a question? Just ask and we'll get back at you with an answer from our Vet for free!

If you need an immediate response, we suggest trying this online veterinary service that is available now to answer your questions.